Yealink SIP-T33G - 1301046 (YEA-SIP-T33G)
Yealink SIP-T33G: High-Performance IP Phone for Modern Offices

The Yealink SIP-T33G is a high-performance IP phone designed for entry-level users.
It boasts a vibrant color display, sized at 320×240 pixels with backlighting, making it easy for users to navigate and offering a visually pleasing experience. 
Not only is it aesthetically appealing, but it also supports up to 4 lines and has a built-in capability for 5-way local conferencing. 
The inclusion of a cutting-edge chip enhances its operational efficiency. 
Additionally, the phone is equipped with a dual-port Gigabit Ethernet that has PoE integration, compatibility with the Yealink WH62 Dual Wireless Headset, Yealink WH62 Mono Wireless Headset and the Yealink WH63 UC Wireless Headset through the Yealink EHS35, and a versatile stand that can be adjusted to various angles. 
This combination of features ensures the Yealink SIP-T33G  provides top-tier functionality at a cost-effective price, making it suitable for both small and expansive office settings.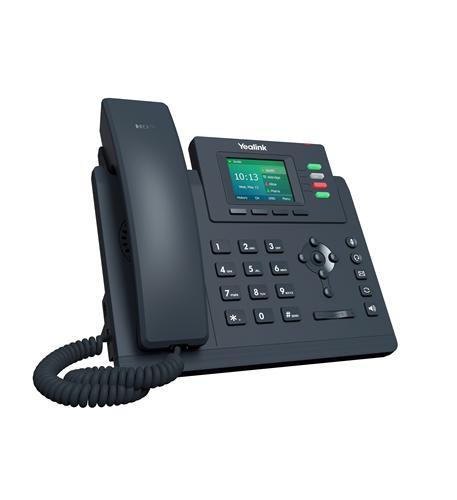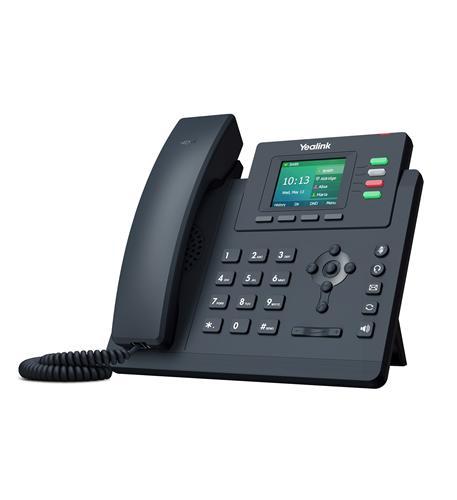 Enhanced Communication: Unveiling the Advanced Features of Yealink IP Phone  
Yealink HD Voice Technology: This ensures that every call made is of the highest clarity, offering a crystal-clear audio experience.

Vibrant Display: The phone comes with a 2.4-inch color screen, boasting a resolution of 320 x 240 pixels. The backlight feature enhances visibility, making it easier to operate in varied lighting conditions.

High-Speed Connectivity: Equipped with a dual-port Gigabit Ethernet, this device ensures rapid data transfer and seamless connectivity.

Power Over Ethernet (PoE) Support: This feature allows the phone to receive both data and power over a single Ethernet cable, simplifying the setup and reducing clutter.

Opus Codec Compatibility: The support for the Opus codec ensures superior audio quality, especially in situations with varied bandwidth.

Multiple SIP Accounts: Users can manage up to 4 SIP accounts, providing flexibility in handling different communication channels.

Local Conferencing Capability: The device facilitates local conferencing for up to 5 participants, making team collaborations more efficient.

EHS Wireless Headset Support: This ensures compatibility with EHS wireless headsets, offering users the freedom to move around while on a call.

Unified Firmware: This feature ensures consistency and ease of updates across devices, streamlining management and maintenance.

Integration with YDMP/YMCS: The phone is compatible with Yealink Device Management Platform (YDMP) and Yealink Management Cloud Service (YMCS), offering centralized management solutions.

Versatile Stand Design: The stand can be adjusted to two different angles, ensuring optimal viewing based on user preference.

Wall Mount Option: For those who prefer to save desk space or require a more permanent setup, the device can be conveniently mounted on walls.