Yealink Dual-port Gigabit Ethernet (SIP-T46U-WITHPS)
Introducing the Yealink SIP-T46U IP phone, an essential communication tool designed to meet the needs of busy executives and professionals seeking superior performance. This state-of-the-art phone boasts an eye-catching high-resolution TFT color display that radiates brightness and vibrancy.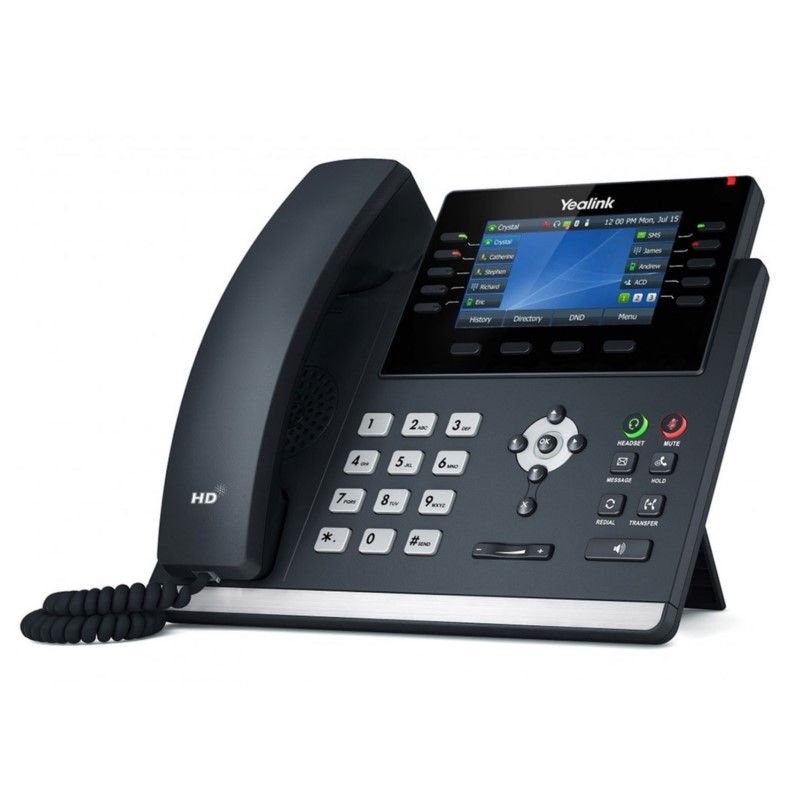 Key Features:
Vivid Color Display: The 4.3" 480 x 272-pixel color display with backlight enhances visual clarity and engagement.

Optima HD Voice: With Yealink's Optima HD Voice technology and Opus wideband codec support, the T46U delivers exceptional audio quality and crystal-clear voice communication.

Dual USB Ports: The T46U is equipped with two USB ports, allowing you to effortlessly connect Bluetooth devices, Wi-Fi adapters, USB headsets, and enable USB recording, providing unparalleled flexibility to cater to your specific requirements.

Dual Firmware Images: Enjoy added reliability with dual firmware images, ensuring seamless updates without disruptions.

T4U Auto-P Template Unified: Simplify management with unified templates for streamlined configuration.

Interoperability: The Yealink T4U series combines the elegance of the T4 line with improved interoperability and enhanced collaboration features.

SIP Accounts: The T46U supports up to 16 SIP accounts, accommodating various communication needs.

Gigabit Ethernet: Dual-port Gigabit Ethernet ensures rapid and dependable network connectivity.

Power over Ethernet (PoE) Support: PoE support simplifies installation and reduces cable clutter.

USB Headset and EHS Support: Connect USB headsets for hands-free communication and enjoy Electronic Hook Switch (EHS) support for added convenience.

Wireless Connectivity: Enable Wi-Fi via the WF40/WF50 adapters and connect Bluetooth devices using the BT41 adapters, expanding your communication options.

USB Recording: Capture important conversations and meetings with USB recording capabilities.

Expansion Modules: The T46U supports color-screen expansion modules for scalability and enhanced productivity.

Adjustable Stand: Customize your viewing angle with the stand, offering two adjustable positions.

Wall Mountable: Tailor your installation to your workspace with wall-mounting options.
Elevate your communication experience with the Yealink SIP-T46U, the ultimate tool for executives and professionals. With its striking display, superb audio quality, and versatile connectivity options, it's the perfect choice for seamless and efficient communication.