Yealink W53P DECT Bundle
$169.00
The Yealink W53P is the ideal solution for small and medium-sized businesses.
Description
YEALINK
The Yealink W53P, being a high-performance SIP cordless phone system, is the ideal solution for small and medium-sized businesses. Paring with up to a total of 8 Yealink W53H DECT handsets, it allows you to enjoy superb mobility and efficient flexibility immediately as well as significantly eliminates additional wiring troubles and charges. To provide a better and higher performance, this DECT IP phone not only supports up to 8 SIP accounts and 8 concurrent calls, but also speeds up its startup and signal connection, slashes its upgrade downtime as well.
By supporting Opus codec, W53P consistently delivers excellent and professional audio quality in both high-bandwidth and poor network conditions, comparing with other wideband or narrowband audio codecs. Offering the convenience of cordless with a simple add-on device without losing the SIP features, it brings a seamless call management for our users while "on-the-go". Owning more functions, lines and mobility, it empowers users with the convenience of wireless communication along with the widely accepted benefits and feature richness of Voice-over-IP telephony.
The Yealink DECT IP phone W53P supports efficient provisioning and effortless mass deploy- ment with Yealink's Redirection and Provisioning Service (RPS) and Boot mechanism to help you realize the Zero Touch Provisioning without any complex manual settings, which makes it simple to deploy, easy to maintain and upgrade, saving even more time and IT costs for businesses.
Wireless DECT Phone W53P
The Yealink W53P Wireless DECT Phone is a reliable and cost-effective choice for customers who are looking for a mid-level DECT IP phone for their moderate-to-active on-the-move communications.
Premium HD Audio Quality
Based on wireless CAT-iq2.0 DECT standard to offer premium and stable HD audio quality for efficient and clear communication.
Ergonomic Design
• Right fit in your palm industry design at just 150mm tall and 25mm deep allows you to carry or put in your pocket with comfort
• Professional and stylish sliver-grey metallic appearance
• Easy and quick operation with 1.8″ 128×160 pixel color screen.
Dependable and Rugged
• Installed with Li-ion battery, ready for long time communication with 18 hours talk time and 200 hours standby time.
• Support optional protective case with water and dust proof, and break resistance features.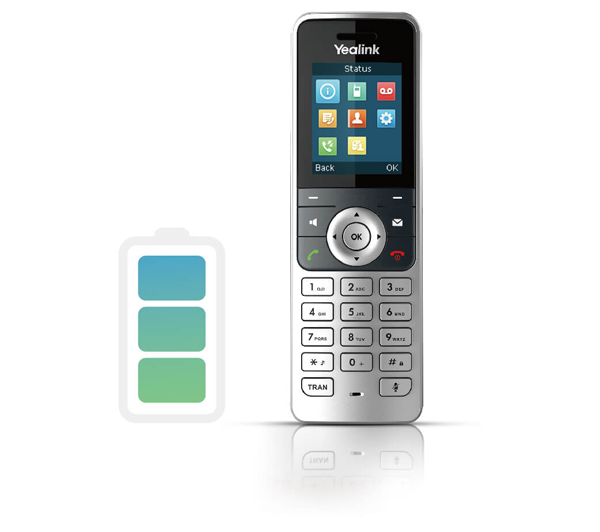 Seamless compatibility with Yealink W60B DECT Base
• The Yealink W60B is a powerful scalable DECT Base that supports up to 8 handsets, 8 SIP accounts and 8 concurrent calls. Equipped with robust hardware and rich features, it perfectly caters to your busy small- to medium-sized office.
• Compact as it is, the Yealink W60B DECT Base works seamlessly with the entire Yealink DECT handset range and repeater.
• It also supports efficient provisioning and mass deployment with the Yealink Redirection and Provisioning Service and Booth Mechanism as to realize zero touch provisioning.
YEALINK W53P CORE FEATURES:
High-performance SIP cordless phone system
1.8″ 128 x 160 TFT color screen with intuitive user interface
Up to 8 DECT cordless handsets
Up to 18-hour talk time (in ideal conditions)
Up to 200-hour standby time (in ideal conditions)
Quick charging: 10-min charge time for 2-hour talk time
TLS and SRTP security encryption
Headset connection via 3.5 mm jack