Yealink T53W With Power Supply
$233.00
Prime Business Phone to Deliver Optimum Desktop Productivity
Description
YEALINK T53W With POWER SUPPLY
Especially designed for busy executives and professionals, Yealink SIP-T53W is an easy-to-use Prime Business Phone with an adjustable 3.7-inch graphical LCD that you can easily and flexibly find the comfortable viewing angle according to the personal and environmental needs. With the built-in Bluetooth 4.2 and the built-in dual band 2.4G/5G Wi-Fi, the SIP-T53W IP Phone ensures you to keep up with the modern wireless technology and take the first chance in the future wireless age. Its built-in USB 2.0 port allows for USB recording or a direct wired/wireless USB headset or up to three Yealink EXP50 expansion modules connection. Benefitting from these features, the Yealink SIP-T53W is a powerful and expandable office phone that delivers optimum desktop efficient and productivity.
Yealink SIP-T53W IP Phone features an adjustable 3.7-inch graphical LCD that you can readily adjust it to the comfortable viewing angle according to yourself. As to the audio quality, the SIP-T53W is coupled with the latest version of Yealink Optimal HD Voice technologies, including Yealink Acoustic Shield technology, that effectively eliminate background distractions and noises, deliver crystal clear voice even in a noisy environment. Meanwhile, complying with the latest Hearing Aid Compatibility (HAC) Regulations, its HAC handset helps the person who is with hearing loss to hear the voice more clearly.
Yealink SIP-T53W IP Phone not only furnishes you with the built-in Bluetooth 4.2 for Bluetooth headsets and mobile contacts synchronization, but also the built-in dual band Wi-Fi for Wi-Fi connectivity, allowing you to access the 5G Wi-Fi connectivity handily. Also if you want to expand your horizons for busy environments, or, share one phone system with your small team by adding multiple handsets, just simply turn your IP phone to the corded-cordless phone via DECT technology. Moreover, the IP phone can function with Yealink VC Desktop together to share content from your laptop, making collaboration much easier than before.
A built-in USB 2.0 port allows you to enjoy USB call recording via USB flash drive. Via this USB port, you also can connect wired/wireless USB headset without connecting Yealink EHS36 anymore, and connect up to 3 Yealink expansion modules EXP50 which can be programmed with up to 180 paperless DSS keys.
The Yealink SIP-T53W supports efficient provisioning and effortless mass deployment with Yealink's Redirection and Provisioning Service (RPS) and Boot mechanism to help you realize the Zero Touch Provisioning without any complex manual settings.
The Yealink T5 Prime Business Phones T53, T53W, T54W and T57W are for today's highly active voice communication users, providing them with advanced telephony features, next-generation HD communication experience and great flexibility. The phones give businesses of all sizes high quality, future-proof and unparalleled solution that will unleash the power of remote communication and collaboration and eventually improve productivity.
Ergonomic Design with Adjustable Displays
• Upgraded elegant and sleek design with large, backlit and high resolution displays and LED indicators to provide optimized viewing and navigation experience.
• Fully adjustable display to fulfill the viewing needs at a variety of angles and under a variety of lighting conditions.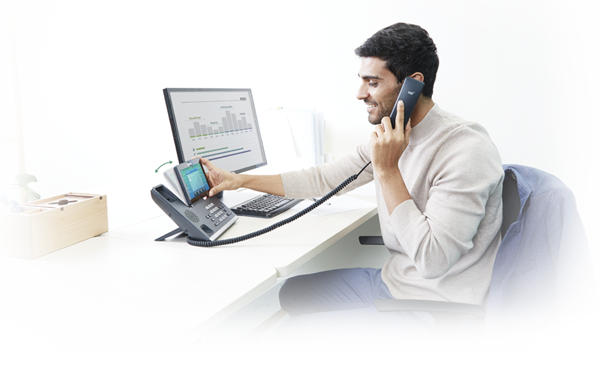 Distraction-Free HD Communications
• Designed with Yealink Acoustic Shield technology to deliver distraction-free voice clarity for remote participants.
• Yealink Acoustic Shield technology uses multiple microphones to create a virtual "shield" between the speaker and the outside sound source. Once enabled, it intelligently blocks or mutes sounds from outside the "shield" so that the person on the other end hears you only and follows you clearly.
• Ideal for busy and noisy workspace such as call centers and office area by dramatically reducing frustration and improving productivity.
Explore Many More Possibilities
• Instant content sharing with the people on the other end of the call. It enables quick discussion and speeds up decision making (Available in March 2019)
• Supports DECT handset compatibility via a DECT dongle Yealink DD10K, up to 4 cordless handsets
• Seamless switching of calls between the desktop phone and the cordless DECT handset
• Built-in Bluetooth and Wi-Fi
Prime Business Phone T53/T53W
• Entry-level phone, well suited for common workspace
• 3.7″ 360×160-pixel graphical display, fully adjustable
• HD Voice with Yealink Acoustic Shield technology
• 8 line keys, 12 SIP accounts, 21 memory keys
• Built-in Bluetooth, Wi-Fi (T53W)*
• Dual-port Gigabit Ethernet
• 1xUSB port for call recording and wireless USB headset
YEALINK SIP T53W CORE FEATURES:
3.7″ 360×160-pixel graphical LCD with backlight
Adjustable LCD screen
Built-in Bluetooth 4.2
Built-in dual band 2.4G/5G Wi-Fi (802.11a/b/g/n/ac)
USB 2.0 port for USB recording, wired/wireless USB headsets and EXP50
Up to 12 VoIP accounts
Dual-port Gigabit Ethernet
PoE support
HAC Handset
Paperless label design
Wall mountable

SPECIFICATIONS
Audio Features

HD voice: HD handset, HD speaker
Hearing aid compatible (HAC) handset
Acoustic Shield
Audio codec: Opus, G.722, PCMA, PCMU, G.729A/B, G.726, G.723.1, iLBC
DTMF: In-band, Out-of-band (RFC 2833) and SIP INFO
Full-duplex hands-free speakerphone with AEC
VAD, CNG, AEC, PLC, AJB, AGC

Phone Features

12 VoIP accounts
Call hold, mute, DND
Redial, call return, auto answer
One-touch speed dial, hotline
Call forward, call waiting, call transfer
Group listening, SMS, emergency call
3-way conferencing
Direct IP call without SIP proxy
Ring tone selection/import/delete
Set date time manually or automatically
Dial plan, XML Browser, Action URL/URI
RTCP-XR (RFC3611), VQ-RTCPXR (RFC6035)
Built-in dual band WiFi:

Network standard: IEEE802.11a/b/g/n/ac
Transmission rate: Up to 433Mbps (dynamic)
Frequency range: 2.4GHz/5.0GHz

Built-in Bluetooth 4.2 for:

Bluetooth headsets
Contact synchronization
Bluetooth call

USB port (2.0 compliant) for:

Wired/wireless USB headset
USB call recording through USB flash drive
Expansion module EXP50 (up to 3)

Content Sharing (via Yealink VCD)
Enhanced DSS key

Corded-Cordless Phone (via DECT Dongle DD10K)

Up to 4 DECT cordless handsets
Up to 4 concurrent calls
Support Yealink W52H/W53H/W56H/DD Phone
Slave Handset for Master Deskset

Directory

Local phonebook up to 1000 entries
Blacklist
XML/LDAP remote phonebook
Smart dialing
Phonebook search/import/export
Call history: dialed/received/missed/forwarded

IP-PBX Features

Busy Lamp Field (BLF)
Bridged Line Apperance (BLA)
Anonymous call, anonymous call rejection
Hot desking, Voicemail
Flexible seating
Executive and Assistant
Call park, call pickup
Centralized call recording
Call recording

Display & Indicator

3.7″ 360×160-pixel graphical LCD with backlight
LED for call and message waiting indication
Dual-color (red or green) illuminated LEDs for line status
Intuitive user interface with icons and soft keys
Multilingual user interface
Caller ID with name and number
Power saving

Feature Keys

8 line keys with LED
8 line keys can be programmed up to 21 various features
5 features keys: mute, headset, message, redial, hands-free speakerphone
4 context-sensitive "soft" keys
6 navigation keys
Volume control keys
Illuminated mute/headset/hands-free speakerphone key

Interface

Dual-port Gigabit Ethernet
Power over Ethernet (IEEE 802.3af), class 2
1 x USB port (2.0 compliant)
1 x RJ9 (4P4C) handset port
1 x RJ9 (4P4C) headset port

Management

Configuration: browser/phone/auto-provision
Auto provision via FTP/TFTP/HTTP/HTTPS for mass deploy
Auto-provision with PnP
Broadsoft device management
Zero-sp-touch, TR-069
Phone lock for personal privacy protection
Reset to factory, reboot
Package tracing export, system log

Network & Security

SIP v1 (RFC2543), v2 (RFC3261)
Call server redundancy supported
NAT traversal: STUN mode
Proxy mode and peer-to-peer SIP link mode
IP assignment: static/DHCP/PPPoE
HTTP/HTTPS web server
Time and date synchronization using SNTP
UDP/TCP/DNS-SRV(RFC 3263)
QoS: 802.1p/Q tagging (VLAN), Layer 3 ToS DSCP
SRTP for voice
Transport Layer Security (TLS1.2)
HTTPS certificate manager
AES encryption for configuration file
Digest authentication
OpenVPN, IEEE802.1X
IPv6, LLDP/CDP/DHCP VLAN, ICE

Other Physical Features

Color: Classic Grey
Wall mountable (optional)
External Yealink AC adapter (optional): AC 100~240V input and DC 5V/1.2A output
Power consumption (PSU): 1.3W-2.3W
Power consumption (PoE): 1.8W-3.1W
Dimension (W*D*H*T): 212mm*210.6mm*174.5mm*41.7mm
Operating humidity: 10~95%
Operating temperature: 0~40°C (32~104°F)